November 2008:
Set a date for my test - mid December. I heard from someone else, they had a quick practical - how to control the boat, man overboard scenario (like every time you pick up the skier) kind of thing. My test venue is in Claremont! Anyone know of a dam anywhere nearby??? Comprises 3 days, 3 Two hr sessions, bring copies of ID and 2 photos - no practical.
Now WTF is going on? As long as you have the R1000 bucks and the brain capacity to study and answer a few, what are most likely common sense questions, skippers license you have!!!! Looks more and more like a state rip-off to me! You don't even have to have driven a boat in your life! weird!
I'll make a point of noting the questions they ask in the test (googled like crazy with no luck). Check back here in 4 weeks and I'll give you a rundown of what it's about and as many Q's i can sneak out or remember. :-)
August 2008 update:
Hehe, we have a reprieve..... SAMSA update

(28kb)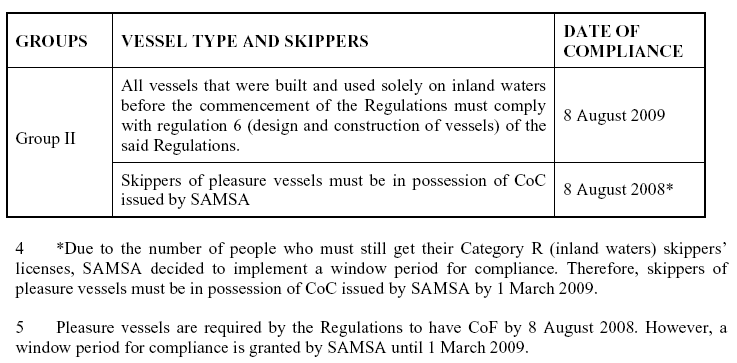 January 2008:
Well there seems to be very little info out there about this new "Inland Waters" skippers license or about what the fine would be and/or what happens if you get caught. I certainly don't want to spend the night in choeky while on holiday, and since we only go to clanwilliam or bulshoek dam, I called up the Clanwilliam police station to ask what exactly the story was.
Well they didn't have a clue what i was talking about and have never even heard of such a law - mentioned they not standing around all day to find out, much less lock you up for the minor infringement even if it was true. Basically "not our problem or interested". Referred me to the campsite instead.
Duly called up the campsite, Asked Pikkie same question - equally clueless. Did mention that the club might be more strict on inspecting boats safety equipment though (probably after what happened with that "shady lady" dingy last year: "Well done Sam for getting the water out that childs lungs - hope they paying you what you worth in that UK hospital"). We have no problem with this as it's down right common sense - we carry much more than just the stipulated basics, having small kids and babies onboard.
It's the new "you must payup and have boat inspected every 2 years" with ugly number planted on side of hull nonsense that gets me. Although not sure how that would affect non-members. Guess your attorney could probably squash any fines from them since the dam is not under their private jurisdiction exactly. I would imagine at the very worst they could deny you entry or launching rights and you could wait for them to push off, or drive further up and launch from Coletta cove or Rondergat etc and if you lucky enough to have a 4x4 - anywhere you like, who knows.
Bottom line: No one inland has any clue what the deal is, or who or how to enforce it, or what to do. And most not even aware of it, and even less concerned about it. Seems like a complete farce from where i'm standing!
This is just a revenue making racket in any event, why don't they just make us pay them and be done with it without all the exam inconvenience.
Whole thing is very weird, incredibly badly researched & assessed and equally poorly worked out - typical of government. Guess they think we all get copies of, and read all, the proposed acts and amendments released in parliament and every other gazette item so we can all make comment. NOT! Most wait for our MP's and ward councilors to inform us and boat owners is pretty low on their agendas - we only hear about such things once it's already law! idiots! And our maritime organizations go along with it - like 90% speedboat/inlandwaters boat owners (Cat R) do not even belong to clubs and hear about it after the fact through the grapevine.
Utterly ridiculous! I use my boat once a year and i refuse to pay someone 1000 bucks to check it every 2 years (oh, even if everything checks out and is in order, you still have to pay the bastards just for looking) and the license is just for morons. You can train a baboon to turn the key, forwards is forwards and backwards makes boat go backwards. Man overboard - well, um, same maneuver you would use every time you pick up your skier you stupid idiot - and if you fail you should not drive a boat, much less a car or anything remotely capable of doing more than 1/2 mile an hour because you must have exactly zero braincells so especially keep away from bicycles! Invest in a donkey!
It's all just a monumental rip-off of note, and it's more the time rather than the money. Damn I wish I had such a cushy job as those boat inspectors: rock up at your place, check out your boat, write certificate, 5 minutes later Kaching - 1000 bucks -thank you very much - goodbuy. It's the states idea - it should be free if they serious about it imho.
What have I gleamed from my investigations: Sa skipper will not answer my questions about fines. The CW ski club (aquatic club) hasn't returned my calls, nobody seems to give a damn. CW you might get moaned at by the club, but there's never anyone there most of the time anyway so i wouldn't bother much.
For what it's worth, here is what the act says: license.pdf

(208k)
Home | About the Town | About the Dam | Full & Empty Dam | Photo Gallery