News Stories:
Top Story: Floods -July 2008
It's been pissing with rain around here for about a week nonstop.
Many places got cut off including Citrusdal where the bridge was under water.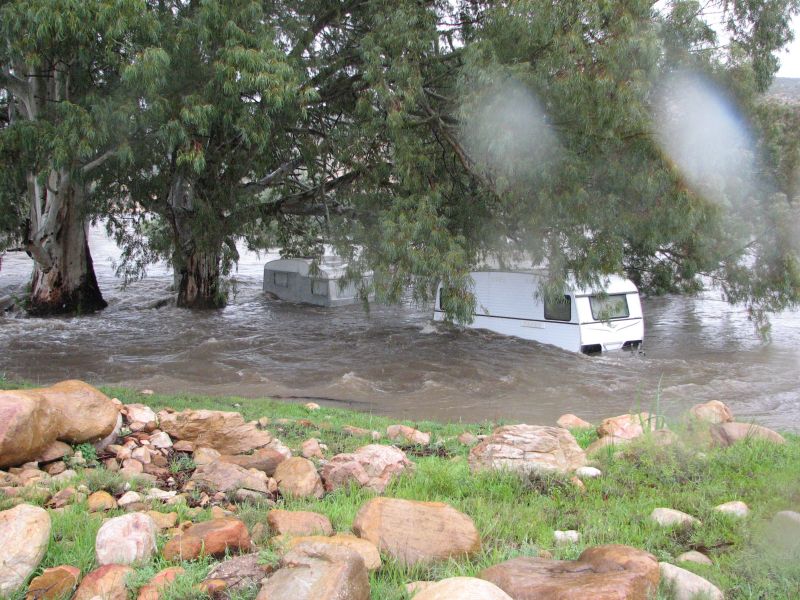 Bulshoek campsite 7 July. Picture courtesy Johan Landman
More of Johans pics available in his gallary here.
Full story from Die Burger here.
More Garages planned at Dam entrance - June 2008.
David Harris Properties (no, nothing to do with Pegasus Mail), are planning to build more garages at the entrance to Clanwilliam Dam. They going to be much bigger ( 4.0m x 10m and 4.5m x 10m to 4.8m x 15m) so they can accommodate the larger wakeboard boats. They also planning a showroom, shop, workshop and a whole pile of other stuff. I wonder if they have done their homework well, and who is going to run this place since it's pretty dead for 6 months of the year, and is really only busy on weekends and holidays so I can't see how it will be economically viable myself.
Full story here.
Spar burned to the ground - November 2006.
Some nutter deemed it fit to burn the place down last year. Half the problem was there were loads of gas cylinders at the back of the store which all took off like rockets and caused extensive damage. Below is a pic of the front door entrance the morning after.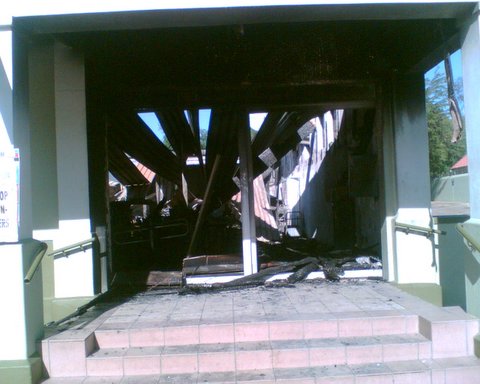 Apparently it was arson, but unconfirmed and the investigation is ongoing. They are currently rebuilding it from the foundations up.
The ensuing chaos in town was quite remarkable and any other "general supplier" type shop was doing a roaring trade over christmas and newyear. There was a shortage of almost Everything including bread and milk. You couldn't get any rolls to have with your boerrie for love or money and they were even shipping the stuff in from Lamberts Bay every day! At Rumskop butchery you could buy all the groceries and fresh veggies you liked, pickup your toiletries and essentials at the same time as your meat. Only thing is it would take a few hours standing in the queue! Mr Friendly Next door wasn't any friendlier or faster either.
Pictures thanks to Peter Meissenheimer
Home | About the Town | About the Dam | Full & Empty Dam | Photo Gallery